Nothing beats having people who look forward to your emails, even if they're only in it for the promotions, having an audience to send your marketing emails to
is essential to grow your online sales and market presence
. Here are the best ways to grow your email subscriber list, for free!
Utilise social media – Add sign up links
If your business stays active on social media, you're probably going to be sharing a lot of exciting content to people who don't even know you have an email newsletter or a sign up option. By utilising your posts to have sign up links, you can drastically increase the number of people within your email subscriber list.
We suggest acquiring your best content, and showcasing this as the front cover on your social media referral links – Nobody is going to want to sign up to your emails if your referral posts are boring, irrelevant and not impacting.
Offer recent buyers an incentive for subscribing to your emails
Retention is key, and nothing is better than turning a first time customer into somebody who wants your products/services over and over again. Upon purchasing, give them a discount incentive, or a free voucher for their next shop, providing they share their name and email address to sign up to your email subscriber list. From here, you want them to be able to expect something useful every time you send out a new email.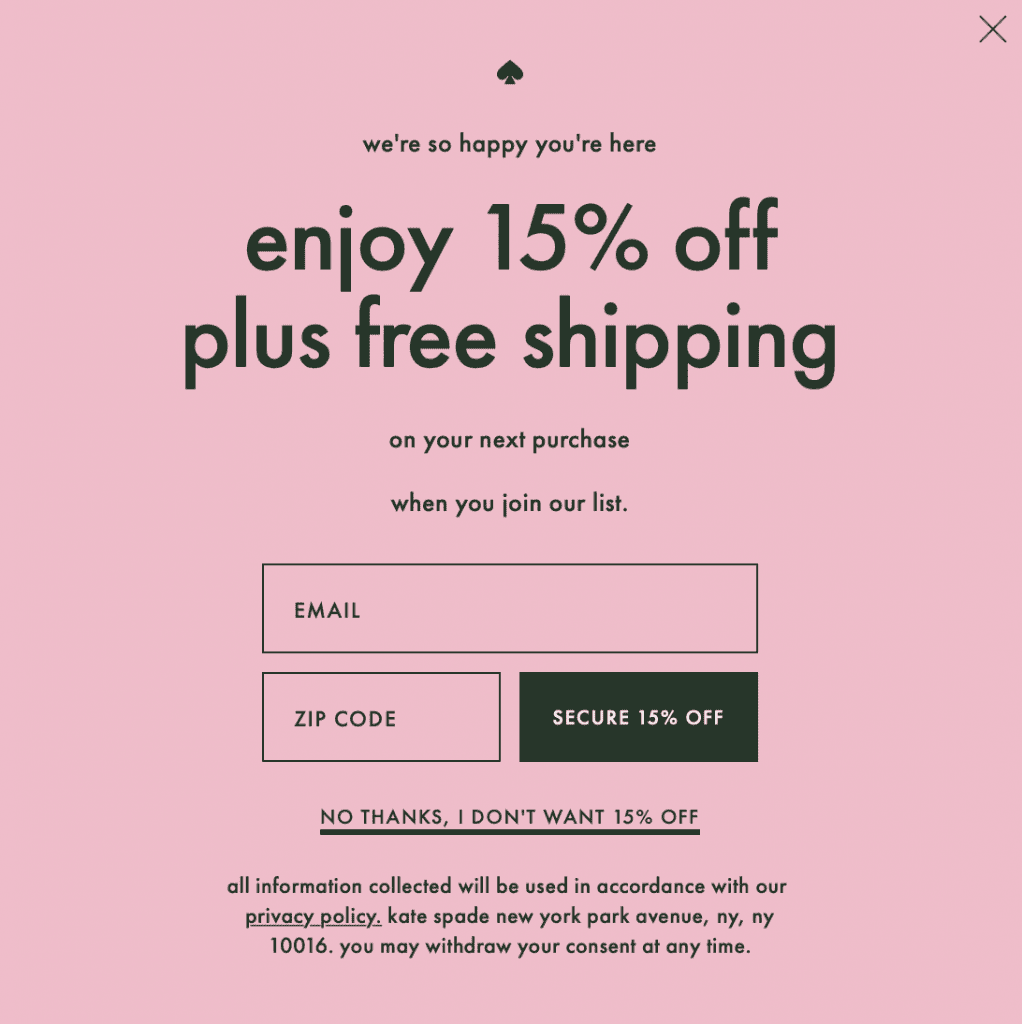 For example, if you are a clothing retailer, there are two main types of email subscribers in your list, the discount and cost-saving shoppers, and the fashion-savvy shoppers. You can probably personalise your email subscriber referral button for your shoppers, so if you know they buy higher-end, fashionable clothing, offer to send out your latest fashion trends and recommendations from your range to these subscribers. 
For those that you know want to save on future shopping trips, let them know you promise to offer them a new kind of promotion on your clothing range every week or every month.
Make your website's landing page a sign-up opportunity
The vast majority of your online buyers are going to find you through a Google search, so when they land on your website, you're going to want to make the most of the few moments they spend there. Make sure you keep the sign up form short, sweet and simple. Your prospective customers aren't going to want to have to spend a long time signing up to your email list, so keep it minimal.
If they're not interested
(which
a lot of people won't be), make the option to close your pop up just as easy as it is to sign up – A matter of seconds. We cannot say this enough, incentivize the sign-up, not many people will willingly give away their details to some company they don't know, or at least not without the promise of an incentive or reward for their custom. The more immediate your incentive is, the better – You could even pledge to add a discount to their first order, should they sign up to your emailing list, and once you have your new subscriber, you want to keep them engaged. 
Here at MailNinja, we are keeping our subscribers engaged to relevant and useful content. Every morning we offer our subscribers a summary from a relevant marketing article, whether it is tips and tricks on Mailchimp, or ways to build an email newsletter. Oh, sorry – In case you are interested, and would like to find out more about what we are offering, you can subscribe to our TL;DR email list
here
.
Organise a giveaway or contest
A very easy way to increase your email subscriber count is to offer a chance for your subscribers to win something. Although this isn't
"free",
you don't actually have to spend money to give one of your products away for free – Plus, you might recoup the cost of it in future subscribers, and eventually, future customers, as more people sign up to your email list, you have more opportunities to sell your products or services from your follow-up emails.
We recommend making your giveaways or competitions last long enough to send out a good chunk of content to new subscribers in between. The last thing you want is people to subscribe, then instantly unsubscribe, so encourage engagement from new subscribers, ask them to share the giveaway with their friends and family too, so you can branch out the number of ways your subscriber list can grow.
Use after post opt-in forms
Let's say somebody is reading one of your blogs, or has been scrolling through your products for quite a while on your website – You know by this point they are engaging well with your content. You can usually tell when somebody enjoys your content or offering, as they'll scroll further than half way down your page, it is at this point where you should be making your opt in forms appear. This will likely have a higher conversion rate, as the people that see this will be genuinely interested in future content, and thus are more likely to share their details with you.
It's important to take note that the average reading time of any website page in general is
just shy of 6 seconds
, so you want to make the most of those that go above and beyond the average reading time, and make their prolonged engagement worth their time with an opportunity to subscribe to more useful, relevant, and rewarding content.
Display social proof to earn your reader's trust
This technique is all about marking your brand as a reliable, safe and well-known place for people to register their details with. Whether your email list sign up forms are placed on your website, blog or social media pages, you want to make your reader aware of how reputable you are. Quote how many 5 star reviews you have, or how many loyal subscribers you already have to-date.
By implementing a trust technique, you can assure the reader your email content is safe, relevant and popular, which is an incentive in itself for anyone to subscribe. This might work more for strategy businesses, who offer tips, tricks, courses and lessons, take a coding course platform for example. You could say something like,
"X percentage of our email subscribers land a coding job within 6 weeks of signing up to our useful email list – Sign up now to improve your future job prospects with our handy guides". 
A large following is a good sign to any reader that your emails are something that are popular with the majority of your customers, and they will benefit from signing up.
So, now you can see yourself getting more email subscribers, you'll probably want to turn these into sales through your marketing emails, right? 
We have a FREE 7-day email marketing course for you to try out, you'll receive an email per day, each email will cover different areas of marketing strategy, to maximise the chances of your success in future marketing endeavours.